Interesting how the world wants to separate us all into climate advocates and deniers. How quickly they want to embrace Exxon's CEO as now in the climate change camp. Yet, to us none of this is relevant to the deeper dive on seeing a move away from fossil fuel as a lifetime opportunity to rebuild a vibrant, incredibly resilient economy.
This transformation to clean energy is sound financially, and socially, on every level. It moves energy production local, reinvents our grids, cuts our costs and brings us an unparalleled smart transportation system. It makes our homes and businesses smart. And it re-balances the economy with the environment.
Tillerson should not only accept that oil, perhaps, soon, natural gas are antiquated ways of powering commerce, but lead the world into a green economy that brings financial opportunity, while protecting eco-capital, to every part of the world.
But Trump's nominee for secretary of state left himself a lot of room to maneuver.
by Eric Roston
U.S. secretary of state nominee Rex Tillerson briefly laid out his position on climate change at Wednesday's Senate confirmation hearing in Washington. The former head of one of the biggest fossil fuel companies on Earth acknowledged that additional carbon dioxide is warming the planet but left enough ambiguity to float an oil rig through.
His assessment of climate risk and the state of scientific confidence in man-made climate change depart from the most authoritative descriptions of the problem, such as recent reports by the United Nations' Intergovernmental Panel on Climate Change, or IPCC, which states:
"It is extremely likely that human influence has been the dominant cause of the observed warming since the mid-20th century. The evidence for this has grown, thanks to more and better observations, an improved understanding of the climate system response, and improved climate models."
Tillerson, 64, appeared to distance himself slightly from President-elect Donald Trump's promise to tear up the 195-nation Paris Agreement on reducing global emissions. "It's important that the U.S. maintains its seat at the table about how to address the threat of climate change, which does require a global response," Tillerson said. "No one country is going to solve this on its own." It's not impossible for a Republican administration to stand by a statement like that even after ditching the Paris Agreement.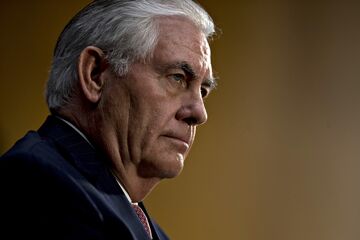 The former ExxonMobil Corp. chief executive officer declined to address the oil giant's past positions on climate change—both because he didn't know (despite having been at the company for four decades) and he didn't want to say, he told the senators. Whether ExxonMobil will face legal or investor sanctions given investigations of what it knew and when it knew it remains to be seen.
His statements do reflect ExxonMobil's evolution on the topic, starting from its early research, when Tillerson was starting out, to the late 1990s, when fossil fuel interests organized a mass-confusion campaign. In the 1970s and 1980s, the company's internal findings echoed the larger research community's conclusions at that time: that the world is warming and CO2 emissions are likely to blame, according to independent investigations conducted in 2015 by Inside Climate News and the Los Angeles Times
Tillerson took over Exxon's top job in 2006 and shortly thereafter pulled the plug on funding for the most high-pitched groups denying the risks of climate change. By 2009, the pressure to contribute to U.S. climate policy debates nudged ExxonMobil into secret negotiations with the Sierra Club over how to design a national carbon tax—just as a market-based climate program called "cap and trade" was working its way through Congress. It died in the Senate in 2010, and the counterintuitive partnership wasn't disclosed for several years.
Nuances in Tillerson's remarks Wednesday allow his position, without further elaboration, to mean a broad range of things, including a comment that computer models projecting possible paths of the climate have limited value. "Risk of climate change does exist, consequences could be serious enough that action should be taken," he said.
Tillerson is correct in acknowledging the dangers posed by climate change. Harvard University economists Gernot Wagner and Martin Weitzman have suggested that the risk of catastrophic climate change may be as high as 10 percent—orders of magnitude higher than, say, dying in a plane crash. "Consequences could be serious," Tillerson said. How will that sentiment manifest itself in U.S. foreign policy over the next four years? That's a central question.