We've had some good stories lately on new technology around using nuclear plants for clean, efficient energy. It looks as if Greenland might want to provide some of the raw material for those plants.
Uranium mining in Greenland an election year issue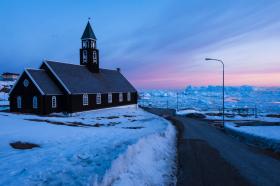 Zion Church, Greenland
The upcoming general elections in Greenland may see the country moving away from the idea of extracting and exploiting uranium, which the government voted in favour of just a year ago.
Uranium mining, the hottest topic in the the cold, Arctic country in recent years, was put on the agenda by former prime minister Aleqa Hammond in 2013, after 25 years with a 'zero tolerance' policy to mining of radioactive substances and oil drilling.
Uranium is a heavy metal which can be both toxic and radioactive, and affect a person's kidney, brain, liver and heart after exposure. It is used as, among other things, fuel for nuclear power plants.
According to Hammond, a Greenlandic mineral and oil venture would add big profits to the country's sluggish economy, which is deeply dependent on fisheries and tourism, and eventually lead to Greenland's independence from Denmark. The tiny nation of around 57,000 citizens is currently deeply depending on a frozen subsidy of 3.4 billion Danish crowns (€457 million) per year.
In October 2013, the Greenlandic government voted in favour of mining radioactive materials after a heated debated by 15-14 votes. But after revelations that Hammond had spent taxpayers' money on expensive flight tickets and vacations for her family, the prime minister was forced to step down after only 18 months in power in September, and the question of uranium has once again taken centre stage in Greenland.
Greenland, a former Danish colony, was granted home rule in 1979. Thirty years later, the Arctic country assumed self-determination with responsibility for judicial affairs, police, and natural resources, but the Danish government is still in charge of foreign affairs, financial and security policies.