One of things we do is to produce and broadcast, across the world, special events that take an in depth look at some of our most critical issues and how they might play out over the next few years.
We are doing just that in RI, as you will see on our main site--Renewable Now.biz--on November 10th as we bring together special host, Miles Grant of World Wildlife Federation and a terrific group of 4 experts to look at the business side of wind.
Below is the description of the night from our main site. If you are in New England, please register (to it soon; filling up fast) and come to the Arpin headquarters that night. We have a beautiful media room to hold the event.
If not, please tune in live on Renewable Now. biz: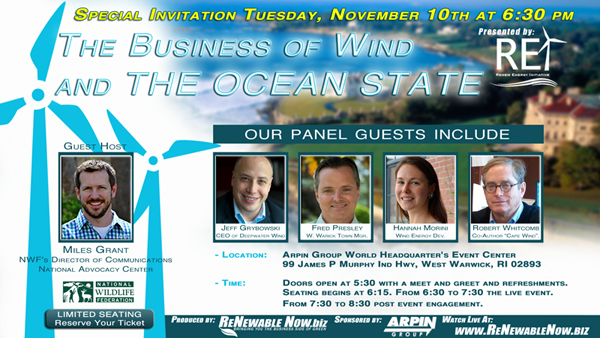 The wind energy market is currently estimated to reach a global worth of $250 billion by 2020, with electricity generated from wind energy a viable source in all 50 states by 2050, yielding significant job growth, a substantially increased renewable energy portfolio, and additional tax revenue. - DOE "Wind Vision Report 2013"
The wind industry is in its infancy in the United States and it just so happens that the smallest state, Rhode Island, is playing a substantial role in setting the pace for the rest of the country. This role includes projects such as DEEPWATER WIND, which is establishing the first ever offshore wind farm anywhere in either North or South America. The city of West Warwick, whose wind initiative will offset all of the electricity used by its municipal and school facilities making it 100% renewable energy efficient. Projects such as these are helping to make the Ocean State a leader in clean energy.
To learn more and to meet the movers and shakers when it comes to wind in the Ocean State please join the Renew Energy Initiative and ReNewable Now on Tuesday, November 10th for a panel discussion on the status and evolution of Rhode Island's wind energy infrastructure, our panel:
Jeff Grybowski, CEO of Deepwater Wind


Fred Presley, the Town Manager of West Warwick


Hannah Morini of Wind Energy Development


Robert Whitcomb, the co-author of "Cape Wind"
Panel Moderator:
Miles Grant, Communications Director at the National Wildlife Federation.
Doors open at 5:30, refreshments will be served. We look forward to seeing you there.
- Location: Arpin Group World Headquarter's Event Center
99 James P Murphy Ind Hwy, West Warwick, RI 02893
- Time: Doors open at 5:30 with a meet and greet and refreshments.
Seating begins at 6:15. From 6:30 to 7:30 the live event.
From 7:30 to 8:30 post-event engagement.