Good news is hitting our main site this week--at Renewable Now.biz--and we are sharing some here Don't forget to tune in today and tomorrow as we run radio shows and then a global town meeting on the theme "Building a Sustainable Future". Great guests, shows, lessons for us all in remodeling our homes and commercial buildings.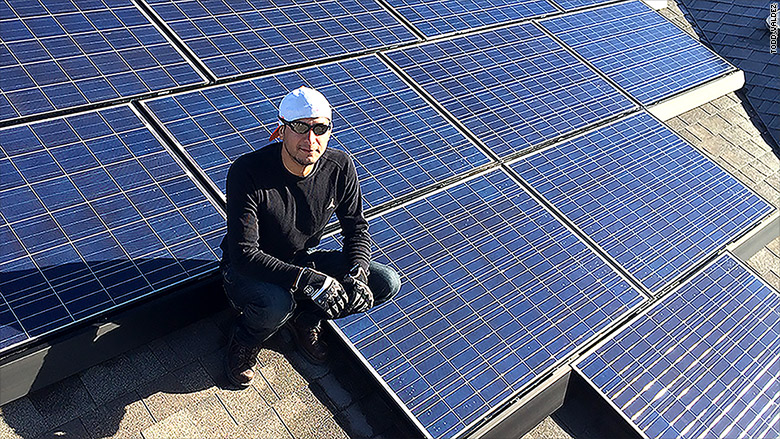 Solar energy is having a moment.
The number of solar jobs in the U.S. has more than doubled in five years. In fact, there are more people working in solar now than at oil rigs and in gas fields.
The solar industry added 35,000 jobs in 2015, up 20% from the previous year, according to the Solar Foundation, a nonprofit in Washington D.C.. The group is not funded by solar companies.
In contrast, oil and gas firms slashed nearly 17,000 extraction jobs in 2015 as energy prices continue to plummet. Oil prices are down a stunning 70% in the last 18 months and hovering just over $30 a barrel, a 12-year low.
There are about 209,000 solar energy employees in the U.S. They include solar panel installers, designers, engineers, sales folks and managers.
Today, the solar industry workforce is bigger than that of oil and gas construction, and nearly three times the size of the entire coal mining workforce.
"The companies we're working with are begging to fill the [job] slots they have because they're growing so much," says Chris Gorrie, campus president of the Ecotech Institute, a for-profit job training center for solar and renewable energy in Aurora, Co.