We've all clung to the believe that natural gas is a "good bridge fuel". One that would painlessly, through clean burn and better pricing, shuffle us from large-scale use of fossil fuel to renewables. Now we look at the exploding prices of natural gas this winter, driven, of course by high demand in the upper US states, and we think...mmmm, maybe not.
We need a better system of consistent pricing around energy. Wild fluctuations hurt everyone. Cold weather should not double the expense to heat or power our buildings.
Yet, importation of our principle fuels will lead to market uncertainty. By investing and using local sources of power, combined with energy storage and smart grid technology, we can build a much more dependable, user-friendly system.
Heating fuel use jumps 31% as Chicago faces sub-zero readings

Northeast prices more than triple, hitting early 2015 levels
Nothing like a cold spell to boost the nation's natural gas demand, and cost.
Forecasts now indicate this week's outbreak will be stronger than anticipated, with Chicago seeing sub-zero readings. In New England, spot prices more than tripled to the highest in over three years and turned the region into the world's priciest market.
Total U.S. gas consumption jumped 31 percent to 115.7 billion cubic feet on Tuesday from Friday. That's the most ever for this time of year in PointLogic Energy data back to 2007. Not only have more homes converted to the fuel from oil in Connecticut through Maine, the region's generators are more reliant on gas to produce electricity than anywhere else in the country.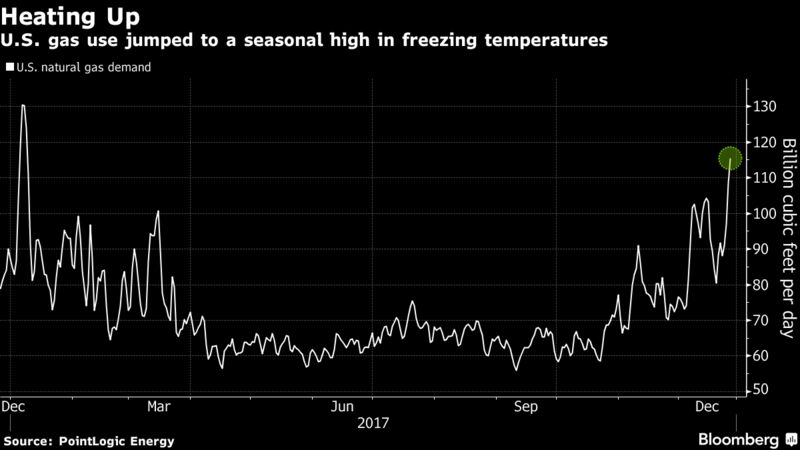 "Gas prices for tomorrow are extremely volatile and high," said John Borruso, director of natural gas trading at Con Edison Energy in Valhalla, New York. "This is truly a gas demand driven event because the temperatures are so cold and it's still December.
The market is set up in a certain way in December, it's not prepared."Gas for next-day delivery on Enbridge's Algonquin city gate in New England, including Boston, settled at $35.35 per million British thermal units on the Intercontinental Exchange on Tuesday. Algonquin gas last rose that high in February 2014 during the polar vortex.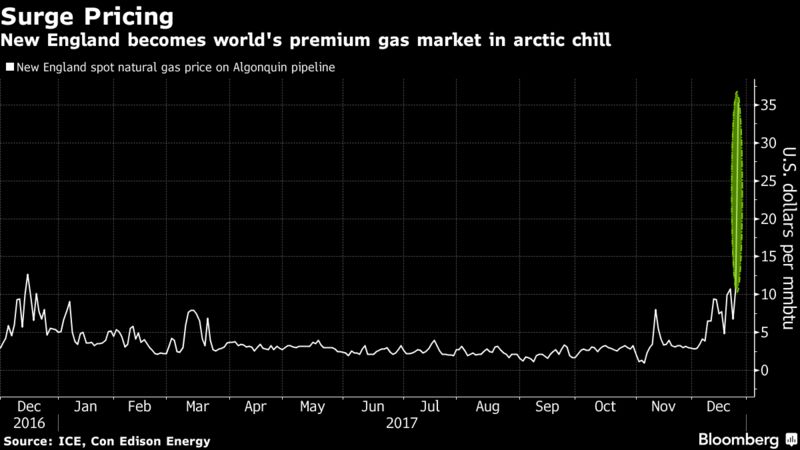 The broader gas market doesn't seem worried that the big jump in demand this week will create a supply crunch later in winter. Gas futures for January delivery fell 0.9 percent to settle Tuesday at $2.643 on the New York Mercantile Exchange, down 28 percent from a year ago. The contracts traded at $2.623 by 10 a.m. London time Wednesday.
"I'm not sure as it gets cold if prices will go higher," Borruso said. That's because many Northeast generators have dual fuel capabilities and it may be cheaper to start burning oil instead. Fuel switching makes sense in New England when gas is around $14 per million Btu and that drops to around $10.50 or $11 in New York, he said. "It's going to be an interesting week."