We have a full house and look forward to a great global audience joining us tonight. Tune in:
The wind energy market is currently estimated to reach a global worth of $250 billion by 2020, with electricity generated from wind energy a viable source in all 50 states by 2050, yielding significant job growth, a substantially increased renewable energy portfolio, and additional tax revenue.
- DOE "Wind Vision Report 2013"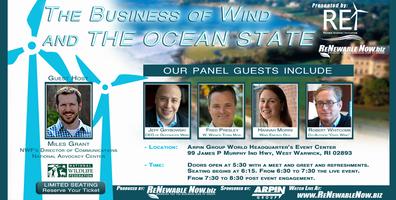 This special will take a look at two particular wind projects in the state of Rhode Island that are helping to make the state a national leader when it comes to clean energy. The projects include DEEPWATER WIND, which is establishing the first ever offshore wind farm anywhere in either North or South America. And the city of West Warwick, whose wind initiative will offset all of the electricity used by its municipal and school facilities making it a 100% renewable energy user.
Keep in mind this is a model for many communities as we all look to capture more of the Earth's natural energy.
- See more at: http://www.renewablenow.biz/main.html#sthash.DHcg8d6g.dpuf