Why is one funky EV noteworthy? One, it puts fun into driving. Two, shows we can break the mold on car design. And, three, is part of a wave of new vehicles that are not only electric but, with some, as we reported, charge on solar.
Good for us that we have plenty of choices right now on hybrids and EV's. Better for us that those choices will continue to mushroom and reflect our innovative and diverse consumer demands and fun lifestyles.
This strange electric car has 3 wheels and no roof
There are plenty of electric cars on the market right now.
But none of them stand out quite like the new UK1909 vehicle from Morgan Motor.
The kooky three-wheeled vehicle is the niche British automaker's first foray into the electric-powered market after 107 years of business. The car is reminiscent of the company's first model, another three-wheeler that debuted in 1909.
The focus of this car is fun and excitement, and not Tesla-style practicality.
CNNMoney got exclusive access to drive and film the new car near the company's headquarters in Malvern, which is an hour's drive west from William Shakespeare's birthplace, Stratford-upon-Avon.
The topless sports car is remarkably loud for an electric vehicle and produces a satisfying "vroom" that's sure to thrill attention-seeking drivers. (Bystanders were suitably agog during CNNMoney's test drive.)
The UK1909 is not the most powerful car, with just 70 horsepower. And its range (150 miles per charge) is limited by its smaller frame and battery storage capacity.
Morgan cars, which look like they could have been plying England's roads during World War I, are built largely without the assembly line methods and machinery seen at most modern automakers.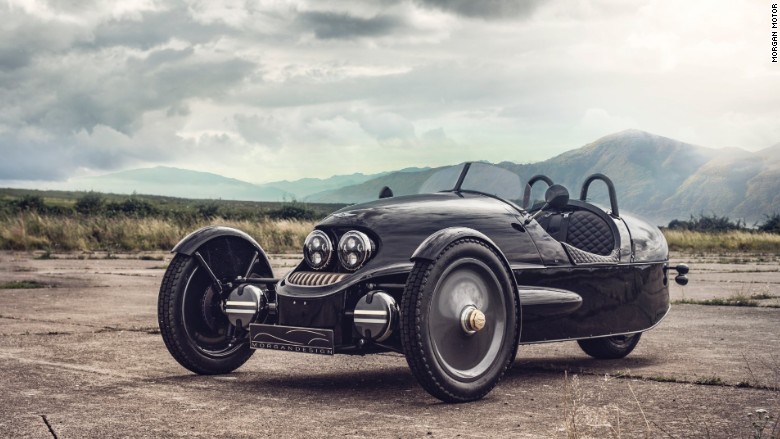 The small, family-owned automaker is only producing 19 UK1909s and selling them exclusively at the London department store Selfridges. The price -- £52,500 ($65,300) -- isn't far off what a Tesla Model S goes for in the U.K.
Despite the limited production run, Morgan insists that electric cars will be a key part of its future.
Morgan is investing £6 million ($7.5 million) in electric technology and plans to eventually produce larger four-wheel electric models.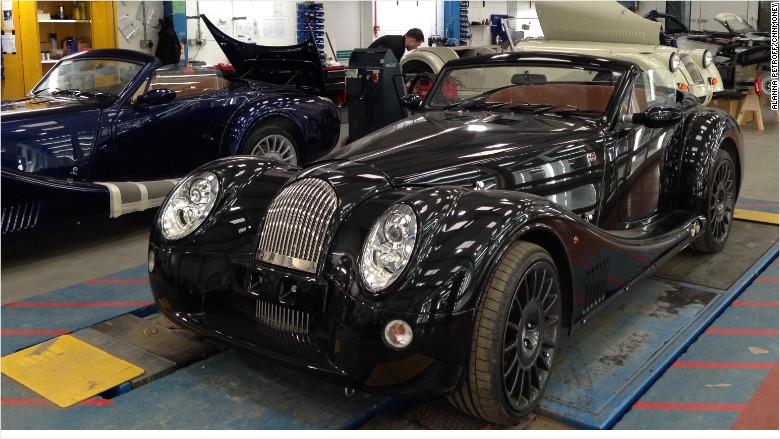 It will also use the UK1909 frame -- with different trim and colors -- to make a second electric car, the EV3. Morgan plans to sell 50 EV3s per year, a significant commitment for a company that produces only 850 hand-built cars a year.
"We won't necessarily make a large return on selling [UK1909 and] EV3 vehicles. But in doing this campaign we are exploring what it means to produce these cars," said Morgan's head of design, Jonathan Wells.
"It's a nice way of us gathering momentum as we explore [electric technology] much more significantly further down the line," he said.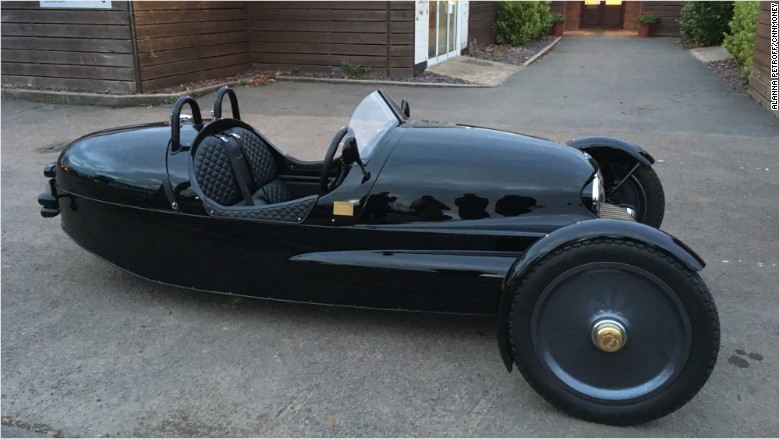 Selfridges, which collaborated on the UK1909 design, is promoting the car's launch by selling a variety of driving accessories to the 19 buyers, including goggles and a scarf crafted by British luxury brand Alexander McQueen.