/
We love new products and innovation:
Combining an in-house automatic movement with battery-powered smart functions, Frederique Constant has created a totally new kind of watch.
By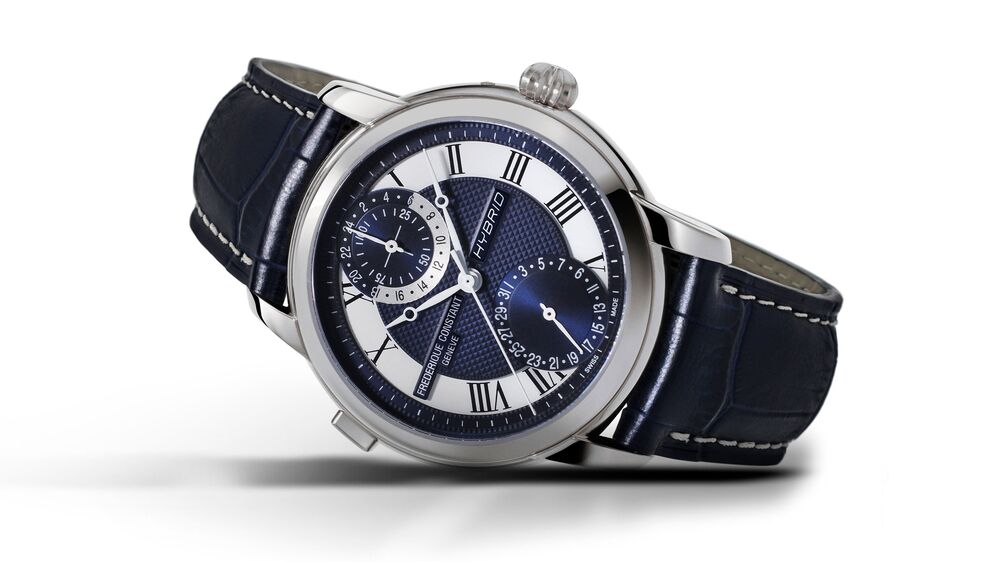 Originally published by Stephen Pulvirent on Hodinkee.
The Frederique Constant Hybrid Manufacture is a totally new kind of smartwatch that combines a true mechanical movement with an full featured fitness tracker and connected watch in one cohesive package. The 42mm case contains a dial that looks very traditional at first glance and uses all analog displays for the standard timekeeping functions and the digital smart features. The movement is, quite literally, an automatic mechanical movement with a digital, battery-powered module integrated into it.
The mechanical functions of the watch are relatively simple – you have time and date displays in a pretty standard layout. The smart functions on the other hand are where things get complicated. The Hybrid Manufacture has all the usual stuff – activity tracking, sleep tracking, fitness coaching, and more – plus some watch-specific features like analytics for the mechanical movement (including rate, amplitude, beat error) and a worldtimer. These are all controlled and accessed via a dedicated iPhone app.
To start, Frederique Constant is releasing four versions of the Hybrid Manufacture, one of which is a limited edition of 888 pieces. Prices range from $3,495 to $3,795 depending on which case and dial combination you're interested in.
Why This Watch Matters
The Swiss watch industry seems to understand that smartwatches are most likely not a fad and that they're here to say (at least for the near future) in a way that they maybe didn't take quartz watches seriously until it was too late. As part of Citizen's acquisition of Frederique Constant,
the company's smartwatch division was spun off into its own independent company called MMT
that was not included in the sale. Clearly, MMT has been hard at work and is still collaborating with its old parent brand, as the iPhone app that controls the Hybrid Manufacture has MMT's fingerprints all over it.
Whether or not this is a watch that you would wear, it's an interesting bellwether of what might be coming from Swiss watchmakers, especially those whose products are in similar price points to smartwatches and who need to find ways to compete. At around $3,500 (depending on which model you choose), the Hybrid Manufacture is much more expensive than your average smartwatch, but it seeks to either lure that customer into the world of luxury watches or keep a watch lover from slipping into the smartwatch stream.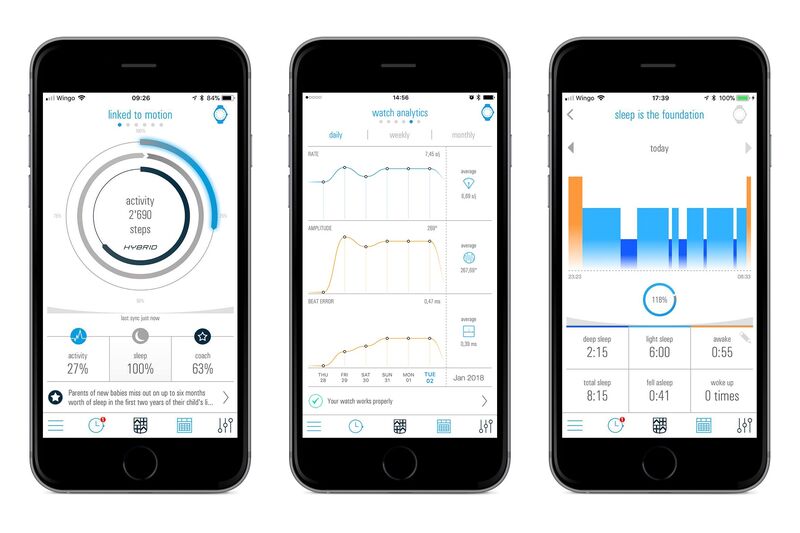 Initial Thoughts
To me, watches like this are more interesting as a thought experiment than anything else. I'm glad to see someone developing technology in this direction, but it seems that the current audience for a watch like this is rather narrow. Compared to something like
the Ressence Type 2 e-Crown Concept
, this watch feels much more like a gadget and much less like a mechanical watch (despite the automatic movement inside). I wonder what value that automatic movement actually brings to the table anyway – if what you want is a smartwatch, my feeling is that you should just spring for a smartwatch and not worry yourself or feel guilty about the lack of a balance spring inside.
The Basics
Brand:
Frederique Constant
Model:
Hybrid Manufacture
Reference Number:
FC-750MC4H6 (steel, silver dial), FC-750MC4H4 (rose gold plated, silver dial), FC-750MCN4H6 (steel, navy dial), FC-750DG4H6 (steel, grey dial)
Diameter:
42mm
Case Material:
Stainless steel, rose-gold-plated stainless steel
Dial Color:
Silver, navy, or grey
Indexes:
Roman numerals
Lume:
None
Water Resistance:
50 meters
Strap/Bracelet:
Black alligator strap