Tesla outsells Porsche, Jaguar in California; market value tops $20 billion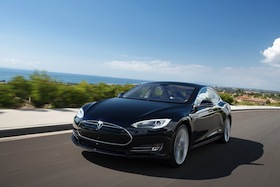 Since
launching in 2003
, Tesla has – against all odds and predictions – taken the almost obscure concept of electric-powered vehicles mainstream.
After 10 long years of production, but only three years as a publicly traded company, Tesla's
market value hit a record high
of $20 billion at the beginning of this week. Heck, you might not believe it, but with just
one model
, the company is outselling Porsche in Tesla's home state of California. According to a
report from the California New Car Dealers Association
, more Californians have registered a new Tesla through the first half of the year than a new Cadillac, Buick, Volvo, Chrysler, Fiat, Mitsubishi, Lincoln, Land Rover or Jaguar. So what's going on?
Change takes time. For years, environmental activists have pushed to reduce energy consumption and cut down on non-biodegradable items, such as plastic bags, that consumers use. Only now, after what feels like more than a decade of struggle and public-service announcements, are people bringing their own bags to the supermarket.
So it follows that after its own 10-year struggle, Tesla is finally reporting profits – albeit
not from its automotive sales
but from special revenue sources – and making a real name for itself. We don't need to tell you that building cars in a market full of nothing but very big players is a heck of a lot harder than bringing a bag to the supermarket.
This has proved a good year for Tesla, with the Model S being labeled
Motor Trend's
and
Automobile Magazine's
2013 Car of the Year, among other honors. During the first quarter of 2013, roughly 4,900 Model S cars were sold in the U.S., making it the top-selling plug-in electric car in North America, ahead of the Chevrolet Volt and the Nissan Leaf.
For the remainder of 2013, Tesla intends to deliver 21,000 Model S sedans and projects doubling that figure that in 2014.
According to CEO Elon Musk
, the demand for the Model S currently exceeds Tesla's ability to make it.
Despite low expectations from independent auto analysts, Tesla has big plans. Slated for production in 2014 is the
Model X
CUV, which received a warm welcome at its 2012 unveiling at Tesla's design studios in Hawthorne, Calif. There have even been talks of building family-sized minivans and an electric pickup truck.
The sky is the limit for Tesla, as long as the company continues recording profits and cranking out its Model S. Maybe now it can figure out a way to reduce the sticker price so that the common folk can be a little more "green" themselves.