Here's the sub heading to this story:
Elon Musk rewrites the playbook for launching a new car
Wonderful, we rejoice. Let's disrupt the market place. Let's kick fossil fuel cars to the curb and make room for hybrids and EV's.
We wish you well, Tesla, Elon Musk. We hope you make a great car, too:
One year ago this week, Elon Musk took to a stage to unveil his most important vehicle yet: the $35,000 Model 3. The electric five-seater accelerates as fast as the the best-selling luxury sport sedans in America—the BMW 3 Series and the Mercedes C Class—and costs about the same.
The value proposition was the best ever for an electric car, and the crowd
ate it up
.
But none of his pronouncements that night were as audacious as those to come. After taking in about 400,000 deposits at $1,000 a piece, Musk ramped up production plans. And then he ramped them up some more. Now, three months from the official start of production, the billionaire Tesla CEO seems to think he can not only match the performance of those top luxury brands, but outsell them in the U.S., too—in just one year.
Tesla has a number of tricks in store for the Model 3 launch, but first it's worth taking a moment to appreciate just how high Musk has set the bar: With unusual specificity for an automaker, he disclosed detailed production targets in a call with investors last month that begin to paint us a picture.
First, Musk said the company is placing orders with suppliers for "1,000 cars a week in July, 2,000 a week in August, and 4,000 a week in September."
1
Tesla then plans to increase production to 5,000 cars a week by the end of the year, and 10,000 a week by the end of 2018. For context, the company is currently able to make about 2,000 Model S and Model X cars a week.
Here's what the Model 3 ramp begins to look like.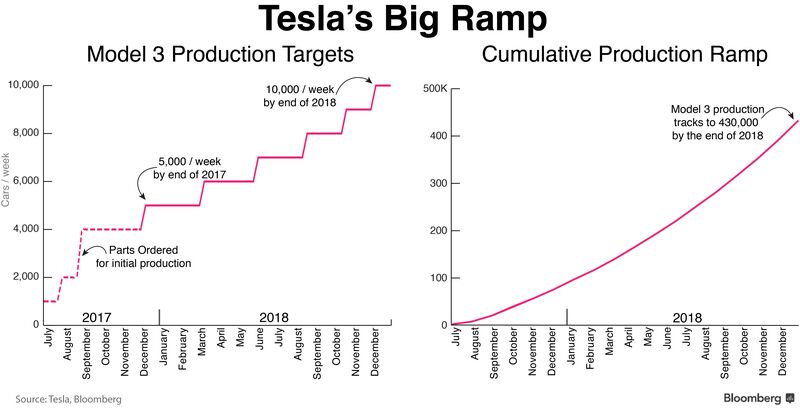 For Musk to hit all of his targets, Tesla would need to build about 430,000 Model 3s by the end of next year. That's more than all of the all-electric cars sold planet-wide last year. The rollout will begin in California and move east, focusing on U.S. reservation holders. Even if half of the Model 3 inventory shipped to other countries,
2
U.S. sales under Musk's targets would outpace the BMW 3 Series and the Mercedes C class—combined.
Another forecast Musk reiterated is that Tesla thinks it can build 500,000 total cars next year.
3
Model S and Model X growth would continue, but at a slowing rate. The chart below, as far as we can figure, is the ramp that Tesla is forecasting.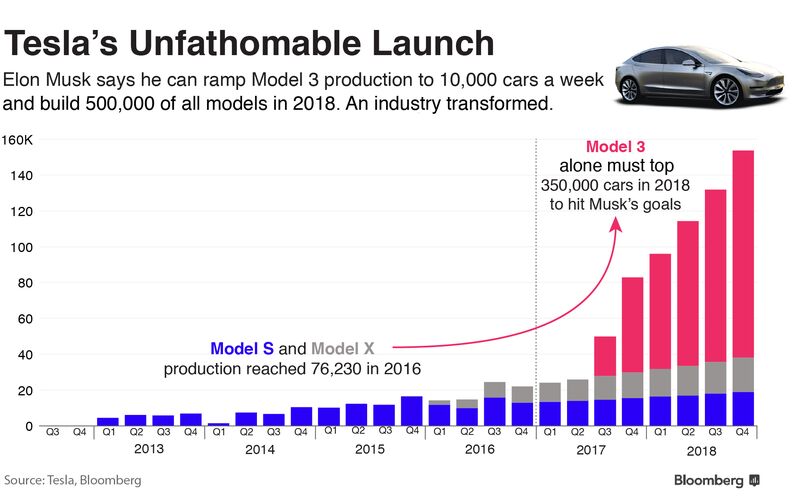 To sell that many $35,000 sedans in the U.S. "would be absolutely unprecedented based on what we know about car markets today and how people spend their dollars," said Salim Morsy, electric car analyst at Bloomberg New Energy Finance. "It could happen. I'm pretty sure it won't."
Virtually every Wall Street analyst agrees. Even the most bullish among them don't think Tesla can sell half a million electric cars next year, and Musk has a long history of
never setting a deadline that he's likely to keep
. But it's still important to understand the lofty targets Musk is setting, and some of the crafty ways he's trying to make it happen.
Rewriting the rules for a car launch
Tesla is redefining how cars are developed, built, sold, and updated. Some of the tricks Musk plans to speed up the launch can only be done once. Others may transform the automotive industry much like Telsa's over-the-air software updates. Here's what we know:
Tesla is skipping "beta"—sort of.
On Friday, Musk fired off a barrage of 50 messages on Twitter while on a flight to Cape Canaveral, Florida. Among them was a six second
4
, the first glimpse of what he calls a "release candidate" Model 3. The term is more typically used in the software industry, referring to a final version that's almost ready for public release.
Musk is condensing the typical timeline for a car release. A traditional auto manufacturer spends about six months testing a beta cars prior to a rollout. Musk seems to have skipped a step, and is building test vehicles using the same equipment line that will feed mass production. If that's the case—and this truly is a "release candidate"—then it implies that production is on track. The car looks very much like the vehicles Musk showed a year ago, and that fidelity to the original prototype will have helped keep engineers on schedule.
A standing army of testers.
There's tremendous demand for the Model 3 among Tesla's 30,000 employees—most of whom are probably unable to afford the pricier Model S and Model X. Musk is putting that interest to use, releasing the first several thousand Model 3's to employee reservation holders.
This is a huge advantage unique to the Model 3. As early problems are identified, they can be fixed at the work site. If there's a hardware problem that requires a recall of the fleet—as happened with a seat defect in the first 2,700 Model Xs—employees need only drive to work to have them fixed. This means that even while Tesla shortens pre-launch testing, by the time production ramps up to a wider audience, the Model 3 may have nevertheless undergone more rigorous internal troubleshooting than most cars.
Features are being stripped down.
One of the primary goals of last week's Twitter barrage appears to be downplaying expectations for new features. Musk said there will only be one display—the car's 15-inch touchscreen—with no additional gauges or heads-up-display projected at the windshield.