We love getting kids involved in our discussions around crafting a cleaner future. Talks around video games is a good way of doing so. See below and share with your kids.
See more stories at renewablenow.biz.
"One of the best ways to spark an energy revolution is through the younger generation — and nothing quite speaks their language like video games.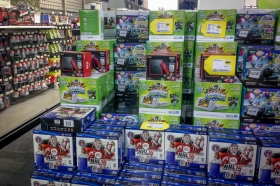 But this issue has less to do with the content of these addictive games and more with how the younger generation consumes them.
Fantasy and adventure, sci-fi and first-person shooters, strategy and racing — video games today comes in all types of genres with thousands of add-ons and customizable features to make each story a virtual reality. And with all of these choices comes two more: buy a copy of the video game on a disc or download the video game straight from the console.
At the crossroads of the decision lies Sony, one of the leading manufacturers of video games including the PlayStation® console. Sony offers the choice between direct download through an online Internet connection and purchasing via game stores a Blu-ray copy of the game.
Now, one would think the former option is friendlier on the environment — no carbon footprint from shipping or driving to stores. However, cartridge collectors everywhere are about to rejoice. According to the Journal of Industrial Ecology, downloading a game from an Internet server can create a larger carbon footprint than driving to a store to purchase the game on Blu-ray disc.
A study was conducted by the Journal of Industrial Ecology, and although the report was based on a series of assumptions, the results were as follows:
"The CF [carbon footprint] of the life cycle of a downloaded 8.80-GB game amounted to 21.9 to 27.5 kg CO2-eq (for lower and upper bounds of Internet energy intensity), whereas the result for a BD [Blu-ray disc] game was 20.8 kg CO2-eq. Gameplay (use phase) accounted for 19.5 kg CO2-eq emissions in both scenarios."
As observed, the carbon footprint from driving to the store and purchasing a Blu-ray disc is less comparatively, but there are some caveats. There is a threshold of 1.3-gigabyte, under which PlayStation® games are still more efficient to download. PlayStation® games are only getting larger, though.
The Journal of Industrial Ecology reports that game files have doubled in size for between 2010 and 2013, and have increased by 25 percent from PlayStation 3 to PlayStation 4.
In fact, the advantage of discs are their ability to store massive amounts of data, which allows them to become exponentially better than direct downloads as their GB capacity increases.
All that's needed is a little more transparency for all video games to be rated "E" — no, not "E" for everyone, but "E" for efficient."