You can sense an industry is maturing a bit, good and bad, when companies within the sector start failing and falling off. But, as you can see here, their assets are valuable, those investments in renewables, and there are plenty of buyers picking up the pieces. Which is good news for the industry and consumers of that clean power:
Brookfield agreed to buy SunEdison's TerraForm yieldcos

Projects sold to football club, developers and investors
The spectacular failure of what was once the world's biggest renewable-energy company has turned into a smorgasbord of wind and solar farms being gobbled up by infrastructure investors, clean-power developers and even a vegan soccer team.
Since
filing
the largest U.S. bankruptcy of 2016,
SunEdison Inc.
has hosted the biggest-ever sale of renewables assets. It's shed at least $1 billion of assets from Southern California to Chile to India -- some through record-breaking deals -- including projects that would have died without new owners. With wind and solar supplying more than
11 percent of global electricity
, the company's debt-induced collapse enabled competitors to strengthen their existing hands or enter new markets.
"Developers have been picking at the carcass," Nathan Serota, a New York-based analyst at Bloomberg New Energy Finance, said in an interview. "As it turns out, the carcass was not so bad."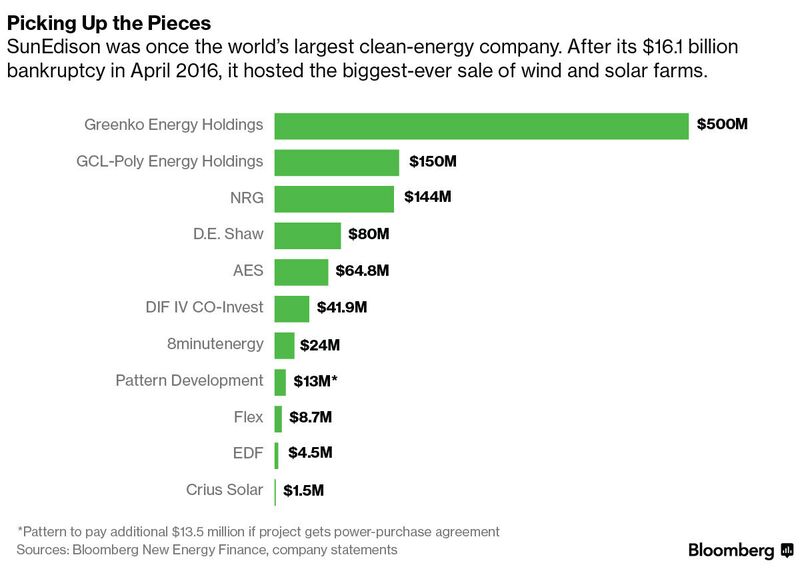 Based in Maryland Heights, Missouri, SunEdison amassed its portfolio by taking advantage of clean-energy's push into the mainstream. Its financial engineering helped enable wind and solar to make up
more than half of all new power-plant
capacity in the U.S. in the past decade. In the process, the company piled up
$16.1 billion in liabilities
by the time it sought court protection from creditors on April 21, a year ago next week.
Its ascent was marked by
landmark acquisitions
announced in the first seven months of 2015, making SunEdison a key driver for the clean-energy ambitions of some developing countries, including India.
Now, it's looking at how to make a comeback. After toggling between a wind-down or a reorganization since filing for bankruptcy, it
announced
last month a rough outline for
restructuring
. But it's also sold off so many prized assets and lost
key staff
that questions remain about what of value will be left.
"They're not coming back as anything material, just the rump or shadow of their former self," Swami Venkataraman, a New York-based analyst at Moody's Investors Service, said last month.
SunEdison didn't offer any official comment.
Bulk Deals
Whether or not SunEdison prospers, its assets have found loving owners.
Its
piecemeal sales process
started tentatively, but it soon became clear that bulk transactions were preferred. That meant fewer deals, a plus considering SunEdison had at one point marketed several gigawatts of assets. That favored large companies able to cope with large-scale finance and project development, including the U.S.' largest independent power producer,
NRG Energy Inc.
"They could look at us with a high degree of transaction-certainty," Craig Cornelius, NRG's San Francisco-based senior vice president of renewables. "Otherwise, they would have needed four different buyers for the same portfolio."
NRG in November bought about 1.5 gigawatts of wind and solar projects -- its
biggest-ever clean-power acquisition
-- for as much as $183 million, depending on certain milestones. That saved three solar farms in Hawaii that a local utility had effectively
halted
, citing SunEdison's uncertain status.
In March, SunEdison one-upped itself with twin deals that would together represent the
biggest-ever transfer
of operating clean-power plants -- 4 gigawatts of wind and solar farms. Those transactions would shift its TerraForm
yieldcos
to
Brookfield Asset Management Inc.
, Canada's largest alternative-asset manager, valuing the two entities at $2.49 billion....